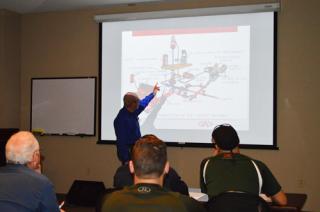 Training (On-site or In-House)
With over 30 years of experience in the industry, CAD Control Systems is continually developing customer training programs. These programs are designed to help our customers save money and improve sustainability of their equipment and systems. Our programs have saved our customers tens of thousands of dollars on a case by case basis.

Training programs are developed around industry standards, sound engineering practices, in addition to decades of experience. Our classes are in-house and offered to engineers, operations and maintenance personnel. Held in a classroom setting with a lesson plan customized to your equipment, the classes are informative and interactive, offering a "hands on" approach to learning and can use actual specified equipment and personnel in charge. We will work with you on the basics and move toward advanced techniques to help identify and solve severe and recurring problems. We then follow up with on-site training and the creation of an operations manual. These materials will give your staff the tools they need to maintain your equipment and identify when your equipment is not functioning properly before it turns into a major repair.
For more information or to schedule a training class, please contact:
337.369.3737 or 337.369.3724 (Fax)
avige@cadoil.com